On February 5th, feed plants in Wellhope's feed industrial park resumed production, and its staff worked in the farms started routine work and arranged to deliver broilers.
Wellhope's feed industrial park is located in Shenyang City of Liaoning Province, where there are Wellhope's three largest feed companies that produce premix, pig feed and ruminant feed. As an enterprise that protects the "vegetable basket", if Wellhope can not resume production due to the epidemic, it will cause many farms and farmers suffering losses. "Work resumption in our feed industrial park has exceeded 60 percent, and the capacity utilization has also reached 60 percent. We can produce about 1,000 tons of feed per day, which can be provided to 5,000 farmers downstream" said by Duan Xiuming, the Manager of Wellhope's feed industrial park.
By report, the Department of Agriculture and Rural Affairs of Liaoning Province issued a document on January 31st, to guarantee the supply of "vegetable baskets" and implement the "green channel" system for ensuring smooth transportation of fresh agricultural products and means of production. Agriculture and animal husbandry industry is related to the national economy and people's livelihood, Wellhope deeply knows that. And while performing its duties, Wellhope also actively focuses on epidemic prevention to protect its staff and ensure the safety of work resumption.
Production capacity recovers 60 to 70 percent, facing the pressure of traffic and job vacancy
At present, in addition to a few severe epidemic areas, among Wellhope's 160 holding and associated companies, those feed companies, integrated broiler companies and pig raising farms have resumed work, the local government has also supported Wellhope disinfectant and other anti-epidemic materials, labor unions have provided special funds to buy masks. In Liaoning Province, for example, where Wellhope has a large market share, its feed companies, as well as its integrated broiler companies and pig raising farms have resumed production, but capacity have not been fully recovered, its feed companies have recovered 60 percent and slaughterhouses recovered 60 to 70 percent.
According to Duan Xiuming's introduction, the pressures and challenges facing after work resumption mainly come from the transportation, employment gap and the lack of raw materials, packaging and other related supporting. However, the problems, such as raw materials and packaging, have been solved one after another after communication with government leaders.
All-round disinfection to ensure the safe supply of livestock products
Since the resumption of production, Wellhope's feed industrial park has conducted strict and diversified epidemic prevention measures. According to relevant staff introduction, every day special staff implements overall disinfection three times, including production area, office area, etc., meanwhile, the production workshops are equipped with disinfectant spray room, office entrances are equipped with disinfection atomization channel. Besides disinfection, Wellhope has also adopted other measures to protect staffs, such as providing masks, temperature measurement, etc.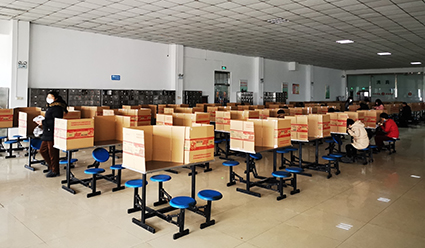 Furthermore, Wellhope also actively helps the communication among upstream and downstream companies to guarantee the smooth running of feed production, broiler raising and slaughtering, meat and food processing, and to ensure the product supply and price stability, so as to protect people's "vegetable basket" program.